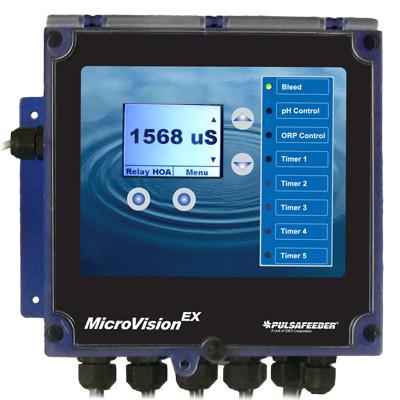 Overview
MicroVision EX is a microprocessor-based Conductivity, pH, and ORP controller, with the features and functions you need for accurate monitoring and control of cooling tower water that won't break your budget! MicroVision EX has optional PULSAlink cloud based communications so you can CONTROL YOUR CONTROLLER FROM ANYWHERE!
MicroVision EX Flyer
Optional PULSAlink Cloud Based Communications – Access your MicroVision EX Controller(s) form anywhere, over an Encrypted cloud based site.
Live Readings
Data Logging
Change Settings
Email Notifications
PULSAlink Tri-fold
Stay connected o your MicroVision EX using your mobile device, tablet or laptop.
Enclosures
IP65
Conductivity Range
0-9,999 μS/cm
ORP Range
-2000 – +2000mV
Power Input
100 VAC – 240 VAC / 50/60Hz / 8A
Controller Display
Multicolor graphical LCD
Timers
Selectable:, Limit, Percent, % Post Bleed With Limit, Water Meter Pulse Timer, Biocide Control Timer with Pre-bleed, Lockout and Conductivity Minimum, 4-20mA Input, pH or ORP Set Point Control, Alarm Output
Selectable Relays
Up to 8
Outputs
4-20mA
Inputs
10
Flow Switch Activate Flow Rate
Approx. 1 gpm/3.78 lpm
Lockable Viewing Window
Yes
Ambient Temperature
122⁰F / 50⁰C Max
Average Current Draw
8 Amps Max
Product Options

Optional Make-up Conductivity Control with a Toroidal Sensor.
4-20 mA Analog Outputs and Inputs
Ethernet Interface
PULSAlink cloud based communications

Accessories

Corrosion Coupon Racks
Metering Pumps ( PULSAtron – XP Series)
Motorized Ball Valves
Solenoid Valves
Water Meters
| | |
| --- | --- |
| Sensor Type | Toroidal Conductivity, Standard Industiral pH and ORP |
| Sensor Temperature Compensation Range | 32-122⁰F / 0-50⁰C |
Toroidal conductivity sensor.
One-point calibration.
Large easy to read color display.
Lockable front cover.
Multiple level security codes.
Up to 10 digital inputs.
Dry contact alarm output.
Battery backup.
USB data logging is standard:

Up to 2 years of data logging.
Upload/Download program settings.
Upgrades to the Operating System.

Optional PULSAlink cloud based communications, over an Encrypted cloud based site.

Live Reading
Data Logging
Change Settings
Email Notifications
Videos
MicroVision EX with PULSAlink Explainer Video
MicroVision EX - Programming - Full Length - Hi Res
MicroVision EX - Home Screen - Programming
MicroVision EX - Settings - Programming
MicroVision EX - Communications - Programming
MicroVision EX Promotional Video
MicroVision EX - Programming - Full Length - Low Res
MicroVision EX - Configure - Programming
MicroVision EX - Timers - Programming
MicroVision EX Features & Benefits